HOPE
Faith for What's Next
Blessed be the God and Father of our Lord Jesus Christ. Because of his great mercy he has given us new birth into a living hope through the resurrection of Jesus Christ from the dead and into an inheritance that is imperishable, undefiled, and unfading, kept in heaven for you. You are being guarded by God's power through faith for a salvation that is ready to be revealed in the last time.
- 1 Peter 1:3-5
The future. Your relationships. Your finances. Viruses. Vaccines. Your job. Your health. The economy. Politics. Our country. Our mental health and well-being. The list is endless and it can not only leave us in fear, it can steal our hope if we let it.
Have you lost hope? Have you forgotten the hope that once burned bright in your life? Do the struggles and challenges of each day seem to overshadow the light of hope in your life? So many have been left paralyzed by the twists and turns of life. But, it doesn't have to be this way.
There is living hope. An unfading hope. An imperishable hope.
And that hope has a name.
His name is Jesus.
Together, over the next year, we will come face to face with that living hope as we discover...
The Hope of the Gospel,
The Hope of Christ's Birth,
The Hope of Heaven,
The Hope of Christ In You, and
The Hope of Christ's Return
Set out on this year-long journey with us, as together, we learn about the living hope that gives each of us the faith for what's next. Our prayer over the next year is that worship would come alive both personally in our lives, and corporately in our church as we hold tight to the unfading hope of Jesus.
---
August Memory Verse
Haven't I commanded you: be strong and courageous? Do not be afraid or discouraged, for the Lord your God is with you wherever you go.
Joshua 1:9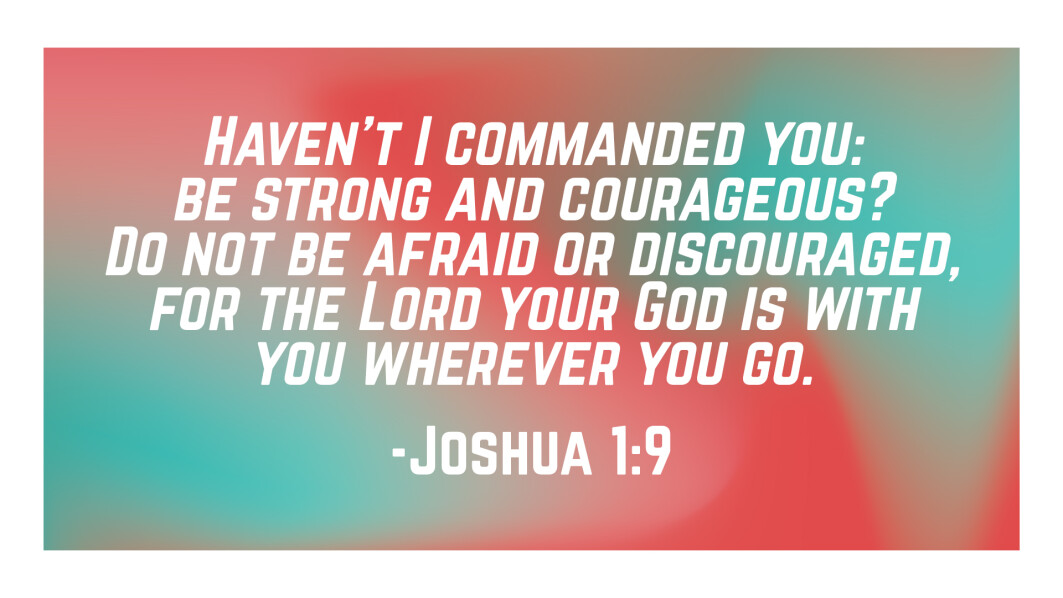 PAST MEMORY VERSES
JULY 2022
Rest in God alone, my soul, for my hope comes from Him.
Psalm 62:5
JUNE 2022
This hope will not disappoint us, because God's love has been poured out in our hearts through the Holy Spirit who was given to us.
Romans 5:5
MAY 2022
Jesus looked at them and said, "With man this is impossible, but with God all things are possible."
Matthew 19:26
APRIL 2022
while we wait for the blessed hope, the appearing of the glory of our great God and Savior, Jesus Christ.
Titus 2:13
MARCH 2022
Therefore, let us approach the throne of grace with boldness, so that we may receive mercy and find grace to help us in time of need.
Hebrews 4:16
FEBRUARY 2022
The nations will put their hope in his name.
Matthew 12:21
JANUARY 2022
He will wipe away every tear from their eyes. Death will be no more; grief, crying, and pain will be no more, because the previous things have passed away.
Revelation 21:4
DECEMBER 2021
But the angel said to them, "Don't be afraid, for look, I proclaim to you good news of great joy that will be for all the people: Today in the city of David a Savior was born for you, who is the Messiah, the Lord.
Luke 2:10b-11a
NOVEMBER 2021
As far as the east is from the west,
so far has he removed
our transgressions from us.
Psalm 103:12
OCTOBER 2021
Now may the God of hope fill you with all joy and peace as you believe so that you may overflow with hope by the power of the Holy Spirit.
Romans 15:13
---
Scripture Card
Click here for the list of Scripture verses mentioned by Nancy Morbitzer in her HOPE story video on Sunday, November 14.