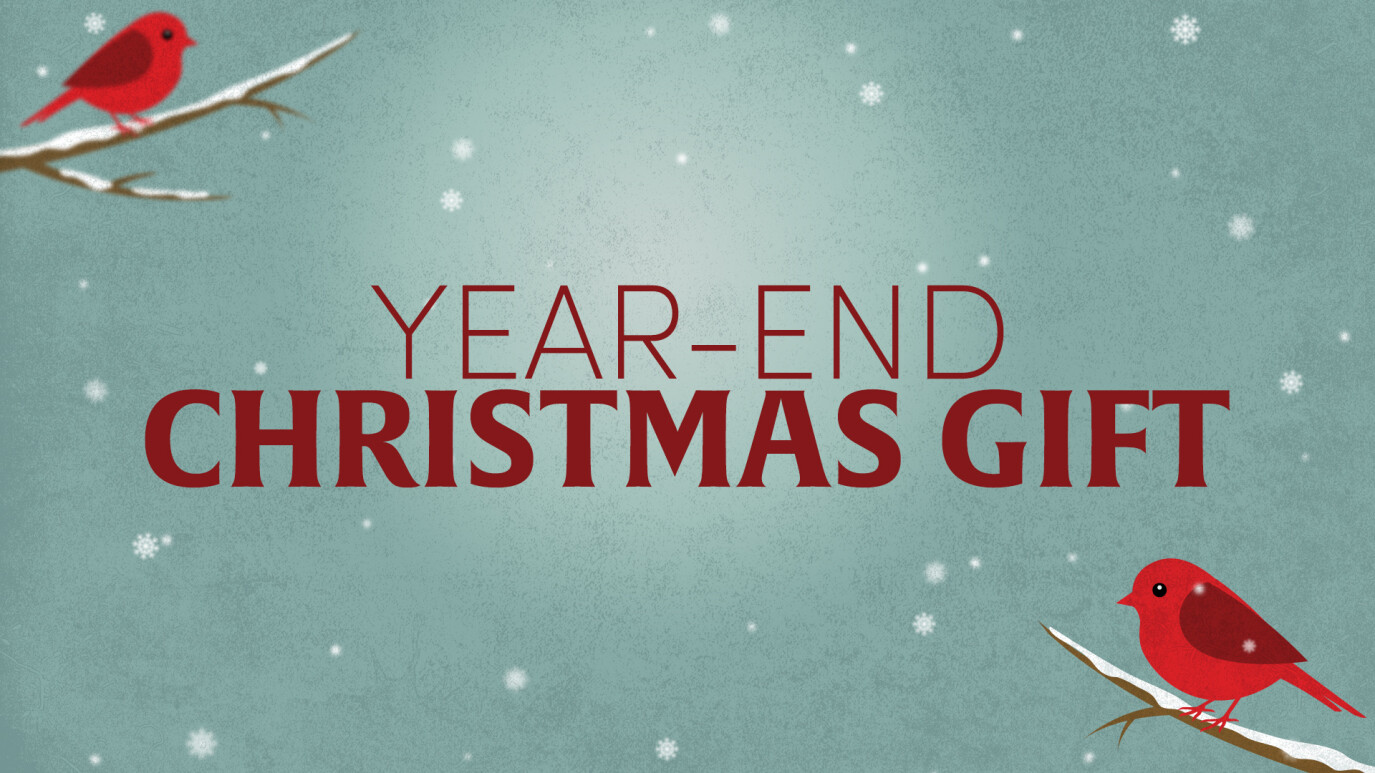 Year-End Christmas Gift
Your year-end Christmas gift supports our Jersey General Fund, which ignites everything we do. It's the fund that fuels just some of the following:
• Creating exciting and God-honoring worship services
• Investing in our Kids, Student, and Adult Ministries
• Supporting full-time workers on the international mission field
• Helping victims of human trafficking locally and around the world
• So much more

We rely on year-end giving generosity to help as we continue caring for people and connecting them to Christ. There are a number of ways to invest as you give a Christmas gift at year-end.
• Text the keyword JERSEYCHURCH to 77977
• Give online before midnight on Sunday, December 31
jerseychurch.org/give | Jersey Church Mobile App
• Place your contribution in the offering box during a worship service in December.
Sunday, December 24 is our last worship service of 2023.
• Mail your contribution with a postmark on or before December 31, 2023.
• If you wish to give a stock gift, you will need to plan ahead to allow the stock to be
transferred to our church account prior to year-end.
• Deliver your contribution. Church Offices are open Monday-Thursday, 9:00AM - 4:30PM.*
*Church Offices closed December 25, 26, 27, 29 and 30
MAKE A YEAR-END CHRISTMAS GIFT
Contact us if you have any questions about your year-to-date contributions, stock gifts, or the donation of other assets.
| 740.927.1859 x111

You are funding a mission that matters, and your generosity is making a difference! Thank you!
---
MAKE A GIFT
We've made it even easier to give, click the link below to get started. You may also text JERSEYCHURCH to 77977 from your smartphone.
If you have any questions or concerns, please email us at .
GIVING AT JERSEY
We offer convenient giving methods. Consider taking advantage of one of these easy giving options as you tithe and join in what God is doing at Jersey, in our community, and around the world.
ONLINE GIVING
Giving online is simple and secure. Give a single gift or schedule recurring donations using your checking account, debit, or credit card. You will be asked to set up a user account the first time you give. When you return in the future, you will simply need to login to give.
Click here to give online today.
ACH DONATION SETUP
CLICK HERE and follow the simple steps to begin your ACH donations. Don't forget, you can set-up a recurring gift through ACH.
TEXT-TO-GIVE
To use text-to-give on your phone, just follow the simple steps below. Your giving will be applied to your debit or credit card, not your phone bill.
1. Text JERSEYCHURCH to 77977.
2. A link will be sent back to you. Tap the link to complete your one-time registration.
It's that easy!
IN-PERSON GIVING
You can place cash or checks (payable to Jersey Church) in the offering plate/bucket during any of our Sunday morning worship services. Gifts may also be mailed to Jersey Church. We encourage the use of and will provide you with offering envelopes to ensure proper application of your gifts to your contribution record.
If you would like to receive offering envelopes, contact Nancy Morbitzer at or call 740.927.1859 x103
WHY WE GIVE
"Remember this: Whoever sows sparingly will also reap sparingly, and whoever sows generously will also reap generously. Each man should give what he has decided in his heart to give, not reluctantly or under compulsion, for God loves a cheerful giver."
2 Corinthians 9:7
MINISTRY ACTION PLAN
IT'S BECAUSE OF YOU
You play an incredible part in helping Jersey care for people and connect them to Christ. Your faithful, financial giving is one of the means by which our ministries grow, our church reaches further and people encounter the saving grace of Jesus.
MINISTRY ACTION PLAN
Our annual Ministry Action Plan (budget) is presented to the congregation for approval July/August in preparation for the new church fiscal year (September 1 - August 31).
Our current annual budget is $3.5 Million
PROPOSED 2022/2023 MINISTRY ACTION PLAN

Review our 2023/2024 PROPOSED MINISTRY ACTION PLAN
GIVING FAQS
GIVING FAQ'S
Q: Is it safe to give online?
Yes. In many ways giving online is safer than writing a check because an electronic gift cannot be lost or stolen. The security of the system is continually monitored by our online payment processor.
Q: What types of bank accounts can I give from?
You can give online from your checking account or credit card.
Q: Are there any fees involved with giving online?
Not to you. You will not pay any fees with an online gift. In fact, online gifts are a more cost efficient way for the church to process donations.
Q: Can I make a one-time contribution?
Yes. The system allows you the option of making a one-time contribution or setting up a recurring contribution.
Q: If I want to set-up a recurring gift, what are my options for frequency?
For recurring gifts, you have the option of giving weekly, twice a month, every two weeks or once a month.
Q: Can I change my personal information, or the amount, or the frequency of my gift?
Yes. You can change or cancel your contribution at any time before the date of your next contribution. Simply email or call our finance office at the church | | 740-927-1859 x111.
Q: Will I still receive regular contribution statements from the church?
Yes. The church will continue to send year-end contribution statements to your address on file for tax purposes.
Q: Can I designate my contribution to a particular cause?
Yes, you can give above the tithe and designate your gift to go toward other established funds. We may also add additional causes at specific times.
Q: How will I know that I set up my contribution correctly?
Immediately after submitting your contribution, you will receive an e-mail verifying your contribution.
Q: If I have additional questions about online giving that have not been addressed, who can I talk to?
For any questions, concerns or comments about the online giving system, please contact us at our finance office at the church | | 740-927-1859 x111.
ANNUAL REPORT
2022/2023 ANNUAL REPORT
Our church year runs from September 1 to August 31.
As you review our 2022/2023 Annual Report, please join us in saying a prayer of thanks for what God was able to accomplish through the ministries of Jersey.
Your extraordinary generosity helps us push our mission of caring for people and connecting them to Christ forward.
Thank you for your faithful giving!