Jersey 100 Mission Opportunity: Guatemala
The Guatemala team invites volunteers to join them on a short-term mission trip that is slated to take place this September and is part of our Jersey 100 goal. Kevin Koehl will lead this team, which will work on local construction projects with the ultimate goal of sharing the gospel.
"Guatemala is a country of extremes," Koehl shares. "Extreme beauty and extreme poverty."
Locals speak Spanish, as well as dialects of ancient Mayan languages. While there are Roman Catholic and Protestant influences, some still subscribe to indigenous Mayan beliefs. Some people groups in Guatemala have not yet been reached with the gospel.
Our team will work with a missionary couple from the International Mission Board (IMB), who will serve as guides and translators, as well as provide food and comfortable accommodations. While there, members of this mission team will help a local church reach out to the community through special work projects. There will also be an opportunity to share the gospel by discipleship through a church plant in the western Guatemalan city of Xela (formally known as Quetzaltenango).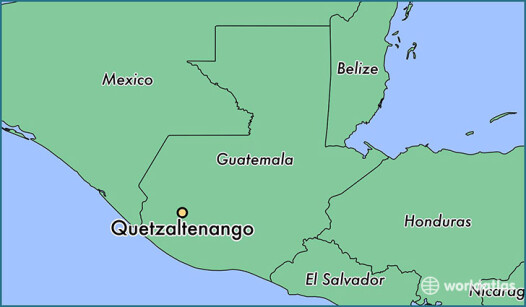 Photo: World Atlas
"These people need to hear the gospel and be encouraged," Koehl says. They would love to hear your personal story and how Jesus has impacted your life, he adds.
Participating in a short-term international missions trip, particularly to a third-world country like Guatemala, will not only reach people for Christ but will also impact your life and spiritual walk.
Whether it's through praying, giving, or going, we hope you'll join us as we aim to fulfill the Great Commission both locally and around the world.
NOTE: We are monitoring the situation in Guatemala regarding the recent volcanic activity. Please join us as we lift these people in prayer as they recover from this devastation.
If you're interested in participating in this trip or would like to learn about others ways you can support it, contact Penny Zuber in our missions office: | 740-927-1859 x174.
If Guatemala isn't the trip for you, we're excited to offer many more international mission trips this year! Click here to explore more opportunities.