Weekend Service Times
Saturday Evening
Chapel Service | 4:30PM
Sunday Morning
Chapel Services | 8:00AM | 10:00AM
Central Venue Service | 9:00AM | 10:30AM
Registration is no longer required for in-person worship services.
WHAT WILL THE WORSHIP SERVICES LOOK LIKE?
Our Chapel service will have live, piano-style music and a live message.
Our Central Venue service will have​ live, band led music​ and a live ​message.
Seating is still distanced​.
We will have our normal online services available on Sunday mornings.
People who watch online and people who attend in-person will watch ​the same message from Pastor John.
WHAT PRECAUTIONS ARE WE TAKING?
We have taken the following precautions as we prepare to reopen the building on Sundays.
· NEW - newly-installed air-purification system that uses needlepoint bipolar ionization. Learn more here.
· Multiple hand sanitizer stations
· No handshaking, but the occasional fist bump is fine.
· No passing of an offering plates. Offering towers are in place as you enter the venue.
· No handouts
· The doors will remain open, so you do not need to touch them.
· Restrooms will be cleaned frequently during the morning.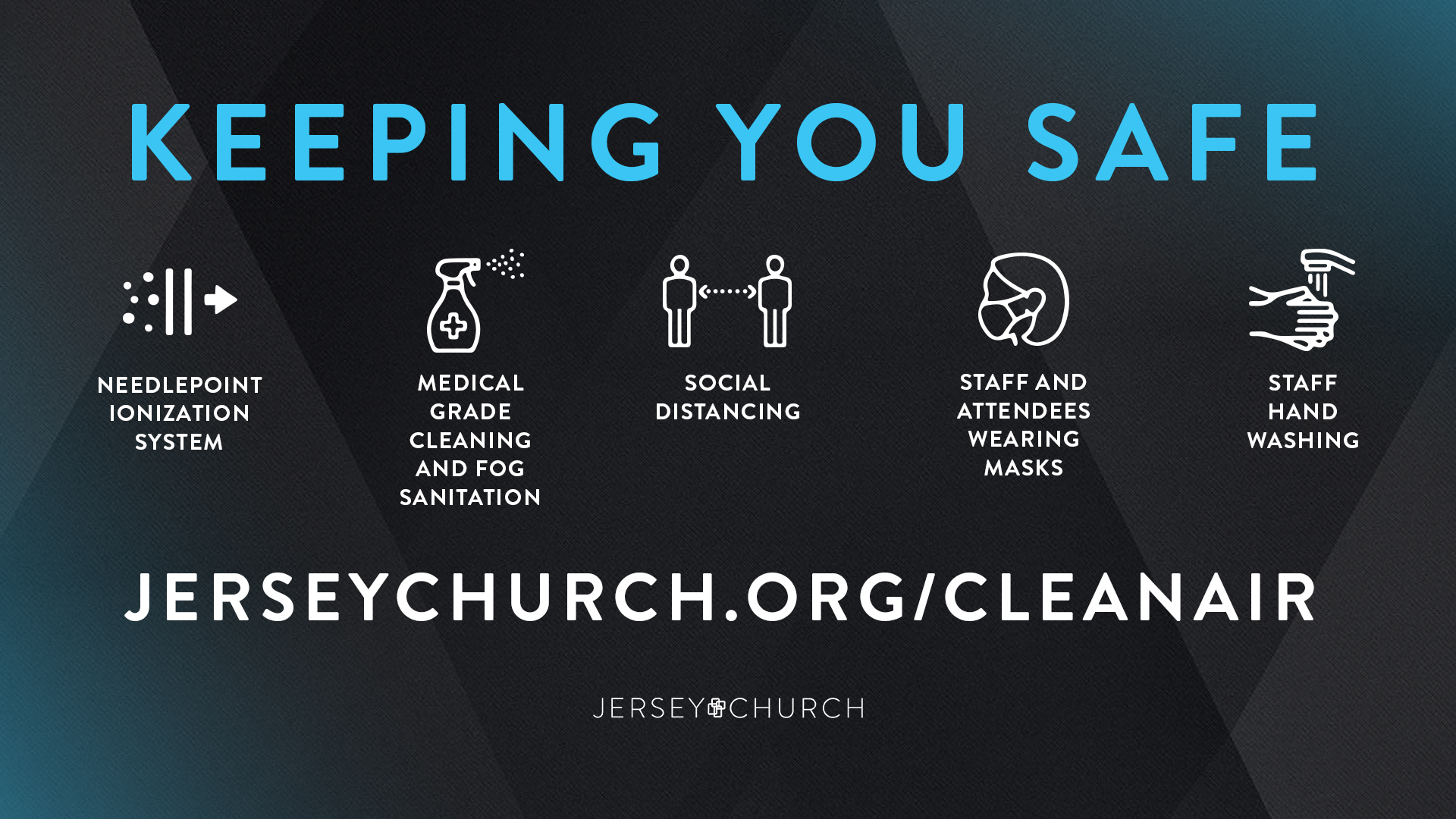 In accordance with the governor's mask mandate, we ask that you continue wearing a facial covering while inside the building.
Masks/face coverings are not required if you have legitimate health reasons that prohibit you from wearing one. Kids under 10 are not required to wear facial coverings.
---
WATCH ONLINE - CHURCH AT HOME
We will be streaming hymns and a message from the Chapel at 4:30PM on Saturdays and at 8:00AM on Sundays. We will stream our Central Venue Worship Services at 9:00AM & 10:30AM, as well as rebroadcast streams at 2:00PM, 4:00PM, and 6:00PM

Find us at the following online channels:
Jersey Church app | Jersey Church | Facebook Live | Jerseychurch.tv | YouTube

We look forward to worshiping together with you online this Sunday. Even while apart, we can still be together.