Reopening Plan

After much prayer and discussion, we began (Sunday, May 17) the process of SLOWLY reopening our physical building for Sunday Morning Worship and Grow Groups.

We realize there will continue to be ​a wide range of emotions​ and opinions about gathering in-person again. Some people may not want to gather in-person at this time. Others have been ready to gather in-person for several weeks. Therefore, we will need to extend much grace to one another through this process.
Although we will do it slowly, we do look forward to reopening. If you are unable to attend for whatever reason, please join us online. Whether you are in the building or online, we are a church united, and we will remain that way as we slowly begin this reopening process.
Thank you for your continued prayer and support as we walk this journey together.
UPDATE: Next Gen Ministries will begin a phased reopening the week of June 1. Read more here.
---
REGISTER TO ATTEND
We will keep you posted if we open up any additional services for this coming Sunday and/or future Sundays.
We are respectfully asking​ that you not attend our in-person services without registering.​ To do so would put our staff, volunteers, and those who have registered in an unfair position.
Additionally, we encourage anyone in a ​vulnerable health situation​ to strongly consider waiting to attend.
CHAPEL SERVICES
NOTE CHANGE: The 4:30PM Chapel service is a MASK REQUIRED service.
CENTRAL VENUE SERVICES
---
What will the worship services look like?
Our Chapel service will have live, piano-style music and a live message.
Our Central Venue service will have​ live, acoustic guitar-style music​ and a live ​message.
Seating will be separated by six feet of empty space​.
We will have our normal online services available on Sunday mornings. People who watch online and people who attend in-person will watch ​the same message from Pastor John.
See below for pictures that will give you a better idea of what distancing will look like in the rooms.
What about masks?
That is a great question. The CDC currently recommends wearing masks, but masks will not be required as they are not mandated by law. We would encourage you to wear a mask, but they are not required. Especially for those unable to wear masks. If you choose to wear a mask, we would ask that you bring yours from home, if at all possible. We understand there are many opinions about wearing masks​. There will undoubtedly be people with and without masks at these services, so please extend grace to one another.
We have decided to make one of our services a mask required service. That will be our 4:30PM Saturday Service in the Chapel.
What precautions are We taking?
We have taken the following precautions as we prepare to reopen the building on Sundays.
· Setting up six-foot physical distancing procedures
· Multiple hand sanitizer stations
· No handshaking
· No passing of an offering plate
· No self-serve coffee stations
· No cafe service at this time
· No handouts
· The doors will remain open, so you do not need to touch them.
· Restrooms will be cleaned frequently during the morning.
WHAT ABOUT STUDENT AND KIDS PROGRAMMING?
After much prayer and discussion, we will begin the process of slowly reopening our physical building for our Kids and Student Ministries the week of June 1.
This reopening will happen over three phases.
---
CHURCH AT HOME
We will be streaming hymns and a message from the Chapel at 8:15AM.
We will stream our Central Venue Worship Services at 9:30AM, 11:00AM, 1:00PM, and 6:00PM.

Find us at the following online channels:
Jersey Church app | Jersey Church | Facebook Live | Jerseychurch.tv

We look forward to worshiping together with you online this Sunday. Even while apart, we can still be together.
---
A look at what distancing looks like in our worship venues.
Chapel (max of 75 people)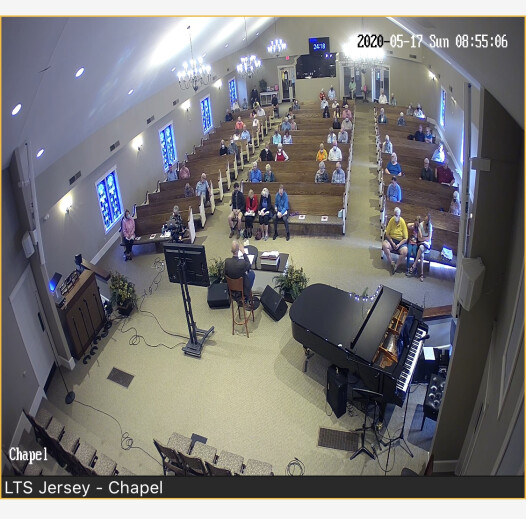 Central Venue (max of 150 people)