International Missions
jersey to the nations

It's our goal to send 100 short-term volunteers into the international mission field in 2018. Learn more about our Jersey 100 goal here.
cambodia - Our country of focus
While we care for the unreached people groups across the globe, we made the decision many years ago to focus on one country. Having a country of focus has allowed us to invest in an even greater way. As a result of that focus, we have seen God work in the people and places throughout the country of Cambodia.
AREAS WE SUPPORT
• Volunteer Trips – Serve as support to our local workers during volunteer trips. These trips provide the much-needed help that our
workers need to continue to open doors for the gospel to be shared.
• Mercy Medical Center – A ministry to meet the physical and spiritual needs of the people of Cambodia. Mercy is a hospital with inpatient and outpatient facilities. There is a dormitory there to temporarily house family members of a patient. The dormitory is also used to house the many volunteers on staff at Mercy. This hospital is a modern-day healthcare facility in the middle of poverty.
• Agape International – A ministry to help alleviate human trafficking and restore people who have been involved in trafficking. Agape provides spiritual counseling for those that are rescued.
• Remote locations in the country – A ministry to evangelize and
plant churches.
---
COLLEEN HALL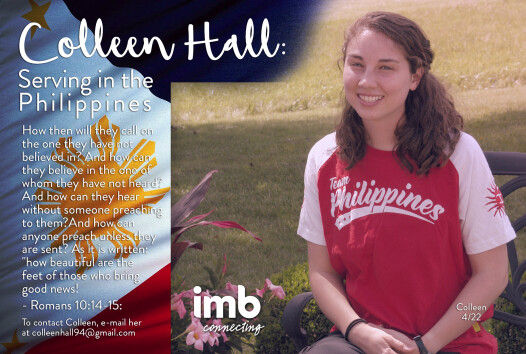 Colleen Hall serves as a Journeyman with the International Mission Board (IMB) in the Philippines. She would love for you to join her team through intercessory prayer. Please be in prayer for the following requests for Colleen and her team as they serve:

1. For the team to be unified and to speak boldly and clearly
2. Safe travel across the Philippines
3. Language skills
4. For the Lord to go ahead of her team and stir the hearts of Filipinos to respond both to the call to salvation and to the command to share the gospel with those who have never heard.
Thank you so much for supporting her through your prayers and giving to the missions offering. Your support enables her to share the light of Jesus to the lost in the Philippines, and encourage them to share the gospel with others around the world.
To contact Colleen and receive her newsletter, email her at

AARON AND KATIE GOLBY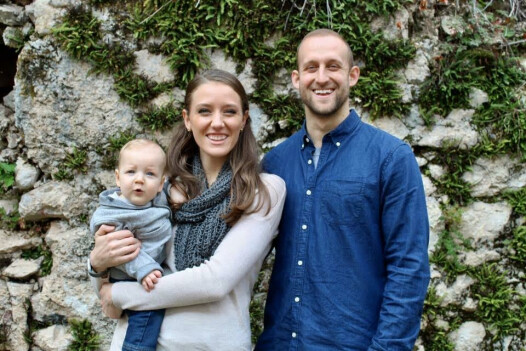 Aaron and Katie Golby are serving faithfully as missionaries with Campus Crusade for Christ (Cru) in Ljubljana, Slovenia. They strive to share the gospel with local college students, as well as disciple students as they grow in their faith and mentor them as they go out and share the gospel with others.

"Our aim is that student's lives would be transformed by God while at college and that they would bring great glory to Christ all the days of their lives as they graduate, and go on to work and raise families in Slovenia and across the globe."

Follow along with the Golby's missionary journey and sign up for their newsletter at golbyfamily.wordpress.com.
---
Learn more about one of our strategic mission partners, the International Mission Board (IMB), at imb.org.